Take the Pledge and Become a Rolando Park Community Pace Car!
Note: The press conference has been rescheduled to 11/2, 10am (originally 10/26, 11 am).
Join us Thursday, November 2, 10:00 am at the west parking lot of the Kroc Center (Aragon entrance) for a press conference by the San Diego Police Department to announce the launch of the Community Pace Car program in Rolando Park.
Rolando Park is partnering with the SDPD Mid City and Traffic Divisions to pilot the Pace Car program to reduce speeding in our community!
Sign the police department's pledge card and pledge to follow the speed limit and other traffic safety laws. The police department will give you a free decal for the rear window of your car.
By displaying the decal on your car, you encourage other drivers to do the same. When you drive the speed limit, you set the pace for other cars behind you.
The Community Pace Car program has been successful in more than 15 cities. We're excited to be the pilot community for San Diego!
The more residents that take the pledge and drive the speed limit in our community, the more successful it will be! Pace car communities make neighborhoods safer for pedestrians, bicyclists, and drivers.
Rolando Park will have increased traffic monitoring by SDPD in the community for the next few months to help slow down speeding as we work to get a majority of residents to participate.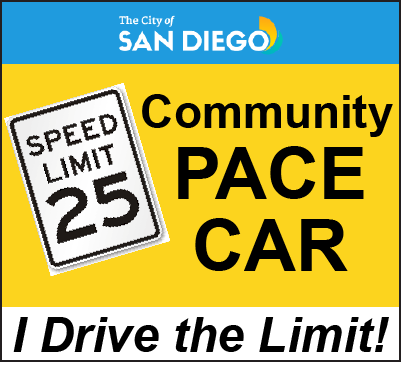 Complete the Pace Car Pledge form to get your decal!