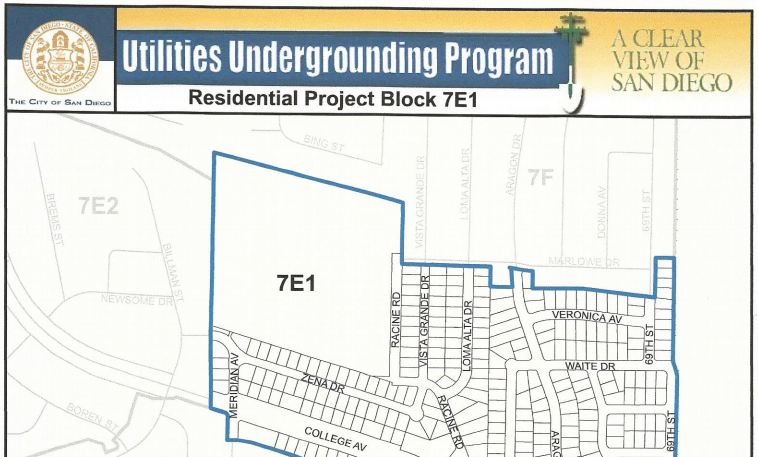 In 2006 the RPCC was in dialogue with elected officials and other City staff to make the undergrounding of utilities in Rolando Park a priority.  Happily they succeeded and the physical work of the undergrounding of Rolando Park utilities was scheduled.  Section 7F was the first section of Rolando Park to be completed on February 27, 2014.
Next on the schedule is Section 7E1 which was originally  to begin work in June of 2016 with completion in June of 2018 and finally Section 7E2 which is scheduled for June of 2024 with completion in June of 2026.
The updated dates for Section 7E1 are: construction start May 31, 2018 and completion May 31, 2020.  The project ID is UU937, the contact phone number is 619-533-3841.
Section  7E2, project ID UU938 is now scheduled to begin May 31, 2025 with a completion date of May 31, 2027.  
RPCC wll continue to provide information and updates on the process as long as Utility Undergrounding remains an Active Project.
See the City Projects in the documents section for maps of Section 7E1 and 7E2 as well as the original schedules.