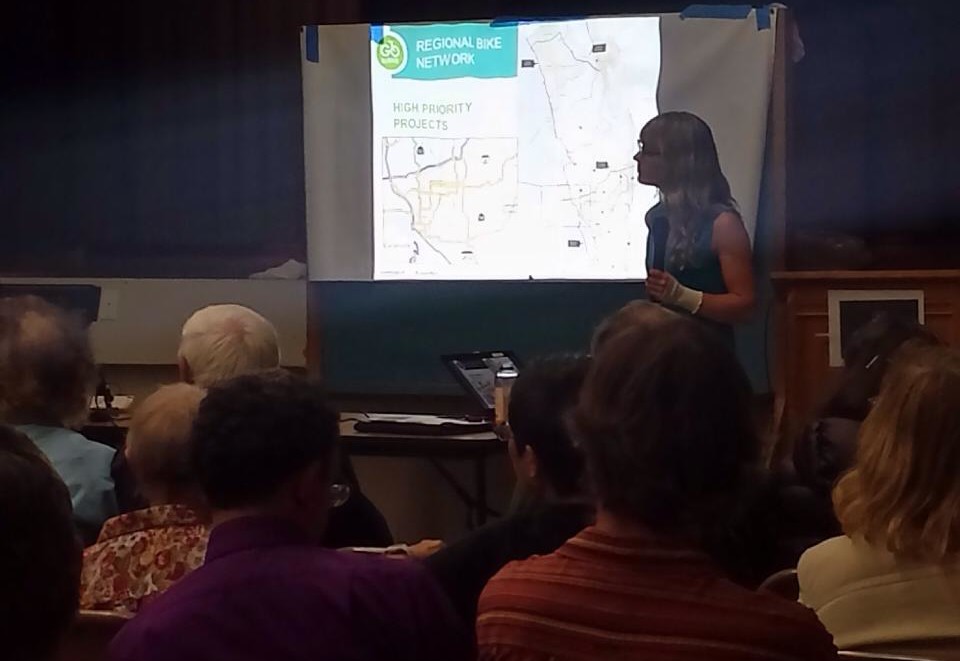 This SANDAG project,  which will include University Avenue in Rolando Park is being monitored by the RPCC.
RPCC hosted Bridget Enderle of SANDAG at our May 2015 meeting to keep neighbors informed of the planned bikeway.  This bikeway, which starts in North Park, will continue down University Avenue from College Avenue east to 69th Street in Rolando Park.
During the May meeting some neighbors expressed concern over the plan to narrow University Avenue in Rolando Park to 2 lanes with paint striped protected bike lanes on either side of the Avenue.
In September of 2015, Ms. Enderle presented an update to the Eastern Area Communities Planning Committee.  It is expected that construction on our section would likely begin in 2018. The bikeway is funded through Transnet. The plan for Rolando Park still includes narrowing University Avenue to one lane in each direction and having the bike lanes buffered by painted stripes.  Eliminating street parking on the south side of University Avenue to allow for an additional lane for traffic was suggested by the Rolando Park representative to the EACPC. A concern was expressed in response to this suggestion that this might create a problem for home owners in Rolando who live on the north side of University Avenue when they must move their cars for street sweeping. It was also suggested that the bike lanes (both east and west) be placed on the south side of the street. All of these comments will be taken under consideration.
You can keep track of the plan at KeepSanDiegoMoving.com/NorthparkMidCityBikeways. To provide feedback you may contact Chris.Kluth@sandag.org or (619) 699-1952.
RPCC will continue to monitor this project and bring updates when available as well as letting neighbors know about any public meetings.