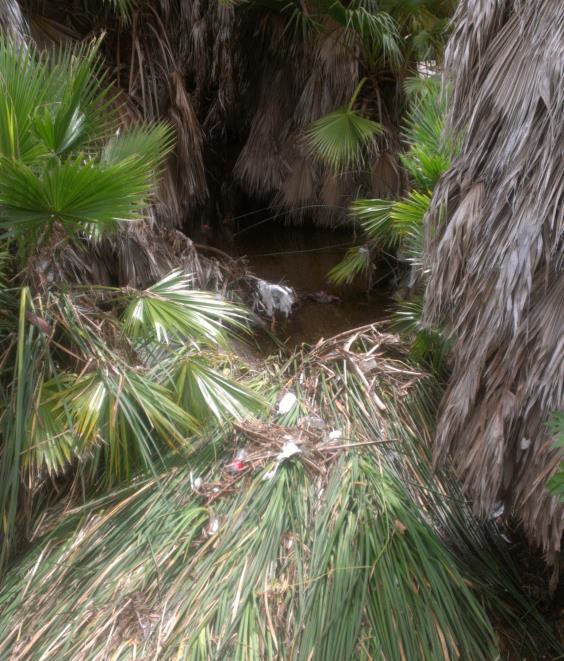 Update January 12, 2016.
On January 12, 2016 City crews showed up and began clearing the Chollas Creek Drainage Channel east of Rolando Blvd.  Thanks to RPCC and neighbor Audrey Ledesma as well as other concerned neighbors for urging the City to address this issue.
At this time our only resource if there is flooding in 2015 – 2016 is to take pictures of the damage and call the Storm Water Hotline at (619) 527-7500 to request emergency services.
The hotline to report blocked drainage channels is (619) 235-1000.
Update December 23, 2015.  
Please see the attached Notice of Right to Appeal an Environmental Determination for a City emergency activity in your Council district or community planning area which will be posted on the City of San Diego's Official website on Wednesday, December 23, 2015. This emergency activity was reviewed by Environmental Staff in the Planning Department and a determination made that the activity is statutorily exempt from the California Environmental Quality Act (CEQA) for emergency actions. If you have any questions regarding the emergency work plan or associated construction activities, please contact the City Project Manager identified on the attached notice.
Thank you,
Myra Herrmann, Senior Planner/Archaeology/Tribal Liaison
City of San Diego – Planning Department-Environmental
1010 2nd Avenue, Suite 1200
East Tower, MS 413
San Diego, CA  92101
(619) 446-5372
(619) 794-5562 (cell)
Update Nov 18, 2015.  Per the Union Tribune "The City Council has declared a state of emergency that could help accelerate clearing of clogged drainage channels. . . . city officials said Monday that federal regulators have expressed willingness to consider the El Niño threat adequate grounds for accelerated permits.. . The city has … set up a flood preparation website, readysandiego.org"
Per an article in the Union Tribune on November 2, 2015:
"Vegetation in a channel may be seen as a flood risk factor by some, but Becker [Eric Becker, senior engineer for the water quality control board's Wetland and Riparian Protection Unit] stressed that plant and shrubs help filter pollution out of water and keep downstream bodies of water cleaner."
"A local agency could move forward with channel work without an emergency permit or a normal permit, but Kleis [Drew Kleis, deputy director of San Diego's Stormwater Division] said such moves would risk hefty fines and extreme mitigation measures afterward."
On August 11, 2015 Betty White and Audrey Ledesma attended the Storm Water Channel Maintenance Program Prioritization public meeting put on by the City's Transportation & Storm Water Division.  The purpose of this meeting was to inform the public regarding the new assessment process for channel maintenance.
Click here to access an aerial view of the Channel and it's two reaches, then right click the document and select rotate counterclockwise.
Attendees received a list of Storm Water Channels under consideration for maintenance in 2018.  The Rolando Park Chollas Creek channel is on the list as Chollas Creek Channel (Reach 2) and Chollas Creek Channel (Reach 1).  The assessment points for the reaches are as follows:
Chollas Creek (Reach 2)

Flood Hazard 68.8 points out of 75; Water Quality 6 points out of 10; Public Input History 5 points out of 5; Public Input Survey, possible 5 points (not rated, Survey has not been taken); Aesthetics 3 points out of 5 for a total of 82.3 points out of 100.

Chollas Creek (Reach 1)

Flood Hazard 56.3 points out of 75; Water Quality 4 points out of 10; Public Input History 5 points out of 5; Public Input Survey, possible 5 points (results not yet available); Aesthetics 3 points out of 5 for a total of 67.8 points out of 100.
Neighbors were encouraged to take the survey which was posted on Nextdoor and rolandopark.org  We hope to be scheduled for maintenance in 2018 if we get enough points.
Neighbors have expressed concern over the years about the state of Chollas Creek as it runs through Rolando Park.  This drainage channel runs behind the homes on Vista Grande and the businesses on University Avenue.
Long time neighbors have shared their memories of prior flooding of homes on Vista Grande when the drainage channel was not kept clear and a time when there were no trees growing in the channel.  The creek bed is now clogged with growth.
RPCC contacted the City in May of 2015 and a service notification number was attached to the site.
Here is the information provided by the City of San Diego Transportation and Storm Water, Storm Water Division – Operations:
Thank you for contacting the City of San Diego regarding the drainage channel in your neighborhood.  This channel,  along with all others throughout the City were recently assessed as part of the City's annual channel inspection.  Staff are currently reviewing the information and developing a prioritized list that will be used to plan future work.  Once the list is completed, I will be happy to share that information and any estimated schedule. A work request was filed for this channel.  When inquiring about this location, refer to Service Notification # 150000677991.
RPCC will continue to monitor the progress on our request to clear the Chollas Creek drainage channel in Rolando Park.