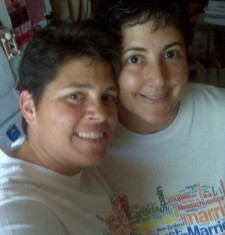 ShawnaMarie and Paige Livingston-Coatney
Volunteers
"No Zillow, we are not Redwood Village."
Q & A with ShawnaMarie and Paige
We've lived in Rolando Park since…August of 2012.
Rolando Park is special for its…. small size, easy access to three cities and friendly neighbors.
Our favorite RPCC event….Our major volunteer project for Rolando Park is I Love A Clean San Diego's Creek to Bay Clean up. We'll also be site captains for ILACAD's California Coastal Clean Up Day at Zena Canyon.
How we get involved in RPCC…. delivering the newsletter, participating on a neighborhood grant committee, and helping with Lean and Clean. 
RPCC Members since….2013.