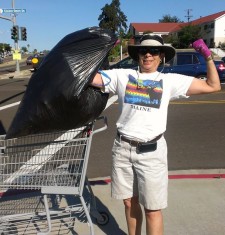 Audrey Ledesma
RPCC Co-Treasurer
"My favorite quote is 'If you are not part of the solution, you are part of the problem.'  This shortened version of the original quote is attributed to Eldridge Cleaver.  I try to live by these words."
Q & A with Audrey
I've lived in Rolando Park since…1985.
Rolando Park is special for its….mix of longtime residents and newer residents. There seems to be a growing energy toward community involvement and cohesiveness utilizing the Nextdoor website. We are also one of the first neighborhoods to have our utilities placed underground and our sewer and water lines replaced.
My major volunteer activity….helping to keep our neighborhood looking well cared for by organizing Lean and Clean cleanups and doing graffiti abatement.
How I get involved in RPCC….attending the community meetings is a great way to meet neighbors face-to-face, keep up with what's going on in Rolando Park and get info from and give input to our city representatives.  I am also the steward for our Little Free Library located at 4021 Loma Alta Drive.
RPCC Member since….2007.