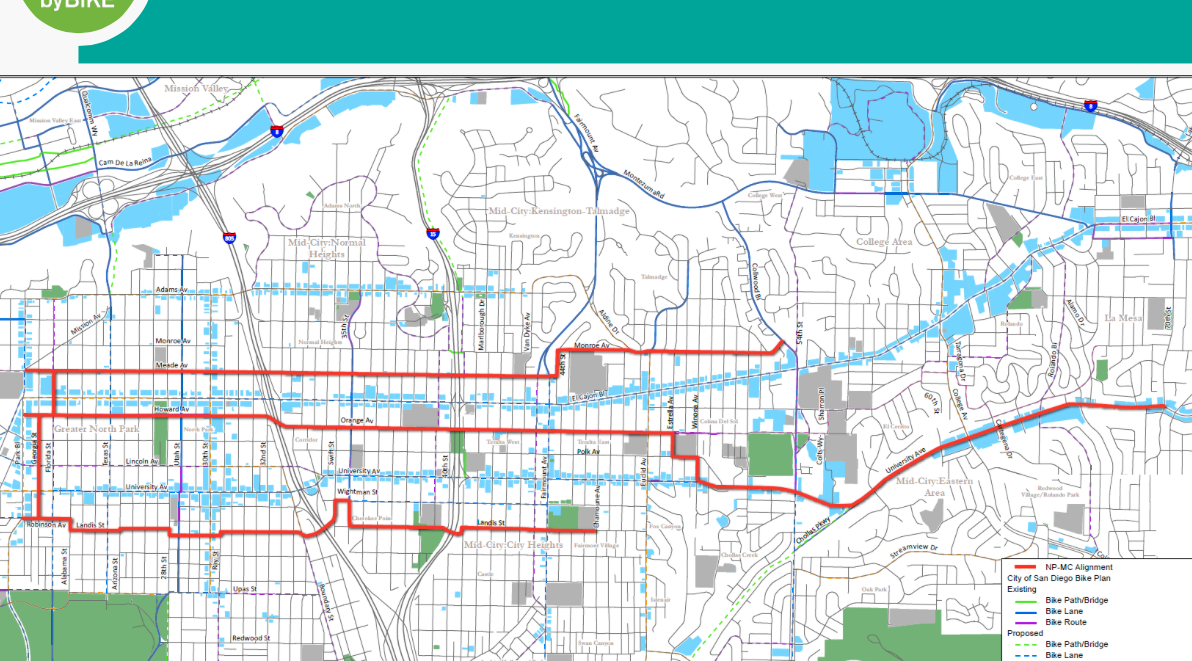 EACPC Updates | 94 Ramps, Mini Dorms & Bike Lanes
At the July EACPC meeting the following development projects were discussed:
•  Assemblymember Shirley Weber's office announced the planned construction of a 125 southbound to 94 eastbound ramp. Construction is to begin at the end of 2016 (approx. December). Also under long-term consideration is a new 94 eastbound access ramp somewhere between Federal Blvd and Massachusetts Ave.
---
•  The College Area Planning Group (CACC), led by representative Rhea Kulman, is working on a proposal to be submitted and reviewed by the City Council to address super-sized mini dorms in the College Area. Super-sized mini dorms are considered single family homes that have been enlarged or altered to fit 6, 7, 8 or more bedrooms. The number of large mini dorms in the College Area is said to be increasing in recent years with some neighborhoods being impacted by parking, noise and trash issues as a result.
CACC is proposing changes to the City code that limit remodeling of single residential units, specifically in an overlay zone that extends from I-8 north to University Ave south (just north of Rolando Park) and Collwood Blvd west to the San Diego/La Mesa borders east. CACC is calling on College Area neighbors to show-up for support of this initiative at the City Council's Rules Committee meeting on August 3rd at 9am in the Committee Room, when they believe the City Council could conduct a hearing on the proposal (no agenda for this meeting is currently set). 202 C Street, 12th Fl, San Diego 92101.
---
•  The planned bikeway path along University Avenue, extending from North Park to the La Mesa boundary, was briefly discussed. It was relayed that construction for the western section is proceeding while the eastern section, running from 54th St to 70th St, has been put on hold. The original plans for the eastern section, running through Rolando Park, called for the narrowing of University Avenue traffic lanes to one lane in each direction. This narrowing and elimination of traffic lanes will be going under review. Review timeframes are TBD.
---
What is EACPC? The Eastern Area Communities Planning Committee, a community group providing local citizens with an opportunity to advise City Leaders on development projects. Rolando Park is a neighborhood within the Eastern Area's borders, defined as El Cajon to the 94 (N/S) and 54th St to the La Mesa border (E/W).