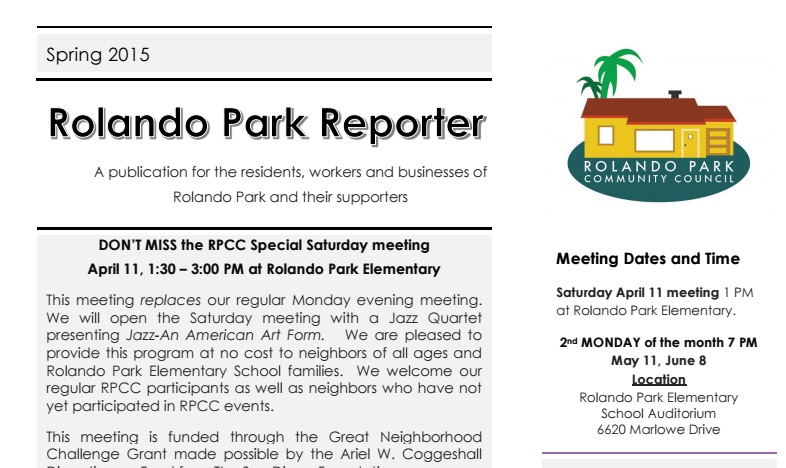 To pay RPCC Membership dues by check, please send your check to:
Rolando Park Community Council
P.O. Box 152352
San Diego, CA 92195
(Please mention in the check for which cause you donate).
Love getting your Rolando Park Reporter? Consider contributing to keep our Reporter going strong!
Every quarter our Rolando Park Reporter is published to keep our local residents, workers, businesses and supporters informed of what's new in Rolando Park.
In our Reporter neighbors can get the scoop on upcoming Community Council Meetings, Special Events, Canyon Clean-Ups, Important News and much, much more.
For those Neighbors not online, visiting our website or Nextdoor.com, the Rolando Park Reporter serves as a liaison for keeping them informed. Plus, it welcomes our new neighbors and let's them know we are an active, vibrant community to get involved in.
---
How to Sponsor the Reporter
The Rolando Park Community Council currently funds the quarterly printing of the Reporter at a cost of $216 with a local printer.
If you would like to contribute towards these fees, click the DONATE button and insert the amount you would like to provide.
We thank you in advance for your consideration and for helping to keep our Reporter going strong!
---
The Reporter Online
As each new issue becomes available, it will be posted on our website under Archives > Rolando Park Reporter. Neighbors can download it immediately (even before it comes out in print!) or access archived copies in the future if you ever want to go back and read old copies.